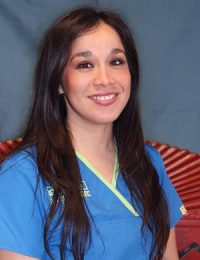 Receptionist / Veterianry Assistant
Cristal is one of our newest hires at Zarges Animal Clinic.  She was born in Las Cruces, NM and was raised and lives in La Union, NM.  She graduated from Gadsden High School in Anthony, NM and after graduation she knew she wanted to work with animals.   She was hired with no experience in February 2018 and has quickly caught on as a helpful assistant.  Cristal is also crossed trained as a receptionist, and her pleasant personality and her outstanding customer service has been quickly embraced by our clients.
During her spare time Cristal enjoys spending quality time with her son and daughter which are her pride and joy!  Asides from being a great mother of two, she also enjoys archery, and anything involving the outdoors.  The only thing missing is a horse, according to Cristal so she can enjoy the beautiful southwest while taking a ride through our magical desert.  We at Zarges Animal Clinic are excited to help Cristal grow as a assistant so she can pursue her dream of becoming a licensed veterinary technician.