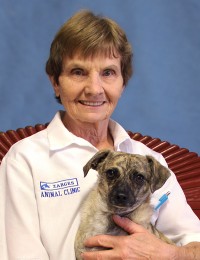 Veterinarian
Education: Colorado State University
Dr. Virginia Sue Zarges was born in Monte Vista, CO. She was raised on her parents cattle ranch in Colorado and graduated from Monte Vista High School in 1954. Dr. Sue was crowned the Stampede Queen in her hometown of Colorado in 1956. Dr. Sue as she is affectionately known by everyone, knew at a very young age that she would become a veterinarian some day. Upon graduation she pursued her dream and passion and attended Colorado State University where she got accepted to the College of Veterinary Medicine and Biomedical Sciences.  She graduated in 1960 where she gained her B.S. and D.V.M. degree. While in vet school she married her High School sweetheart, Dr. Sid Zarges who is also a well respected veterinarian who has since retired.
After graduation she and Dr. Sid moved to El Paso, TX in hopes of opening their own practice. They practiced between El Paso, TX and Ruidoso, NM for 5 years. Dr. Sue then decided she was tired of the back and forth between El Paso and Ruidoso so she and Dr. Sid Zarges opened Zarges Animal Clinic in 1965 in the Upper Valley. They were the first clinic to open on the west side of El Paso, TX. They saw dogs, cats and horses. Both Dr. Sue and Dr. Sid were the main surgeons for horses and did the reproduction aspect for major breeding farms in the southwest. Dr. Sid Zarges treated the horses only and Dr. Sue treated dogs, cats, and horses.
Dr. Sue Zarges is considered a pioneer and iconic figure among women. She was the first female practice owner in El Paso. She was the first female veterinarian in El Paso and the first woman to practice racetrack medicine in the southwest. Dr. Sue Zarges was the first woman president of the El Paso Veterinary Medical Association in 1975 and the first female veterinarian to own an accredited AAHA hospital in El Paso. In 2007 she received a prestigious award by the EPVMA titled the Veterinary Legends of the Southwest by her esteemed colleagues. Upon receiving this recognition it was stated throughout her years of practicing veterinary medicine she has strived to set the example of professionalism for her peers and progressive and proficient skills for her clientele.
Dr. Sue Zarges continues to practice veterinary medicine with her daughter, Dr. Kristi Zarges but enjoys her time off at the Zarges Farm. On her days off she spends quality time interacting with her horses and her lovely grandchildren. Dr. Sue Zarges has three daughters and five grandchildren and is owned and loved by many horses, dogs and parrots.

Years in Practice: 56
Interests: Denistry, Surgery