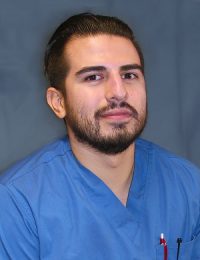 Receptionist / Veterinary Assistant
Raul joined our team at Zarges Animal Clinic in April 2018. He has 10 years experience of working in the field of veterinary medicine as a skilled assistant. He is proud to be born and raised in El Paso, TX where he graduated from Irvin High School. He is currently pursuing a degree in Media Technology and is quite handy when new technology needs to be implemented at the clinic.
Raul is a passionate animal lover as he owns 6 dogs, 1 cat, 3 horses, a parrot, chickens and roosters. His hobbies include baseball, basketball, shooting, riding his 4 wheelers, gaming but most importantly spending time with his family and his beloved wife. Zarges Animal Clinic is very glad to have Raul as one of our team members!