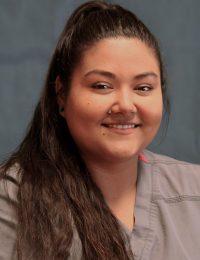 Receptionist / Veterinary Assistant
Natalie is also one of our newest hires who joined Zarges Animal Clinic in August 2018.   She had three years of previous veterinary assistant experience prior to becoming one of our team members.  She was born in El Paso and raised in Anthony, NM.  Natalie graduated from Gadsden High School in Anthony, NM.  She knew at a very young age, 3 years old that her lifelong dream was to help and work with animals.  She has completed the Certified Veterinary Assistant Level 1 offered by the Texas Veterinary Medical Association.  She hopes to complete her schooling and eventually become a licensed veterinary technician with a special interest in dentistry.
On her days off, Natalie spends as much quality time as she can with her family.  She also enjoys the company of her 2 dogs, 3 cats, and her turtle.  She also enjoys hiking, walking her dogs, playing softball, and is an avid baseball fan!  Zarges Animal Clinic is lucky to have hired Natalie and we look forward  to see her grow as a skilled employee.