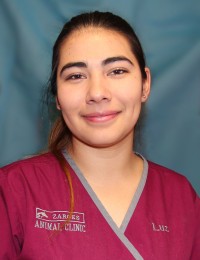 Receptionist / Veterinary Assistant
Luz is extremely proud to be born and raised in El Paso, TX. She graduated from Coronado High School and was an active member of the FFA Chapter. She is currently pursuing a Bachelor's degree as a Registered Nurse. She joined the team at Zarges Animal Clinic in November 2016 and has been a tremendous asset to the practice support team. She is a hard worker, team player with a strong work ethic. Her jovial personality makes it a pleasure to have her as one of our colleagues. She currently has taken on the responsibility of managing our social media and is doing a great job at educating our clients!
During her spare time, Luz enjoys spending time with her family, her two dogs, 2 cats, and her horse. Luz's hobbies include tumbling, softball, and reading but only if she has the time since she is a full time student. Zarges Animal Clinic is proud to have Luz on board as one of our loyal and trustworthy employees! We look forward to watching her grow as a professional!