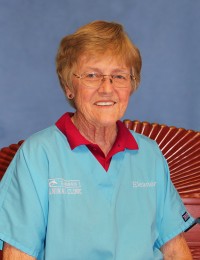 Technician
Eleanor Rix was born and raised in El Paso, TX where she grew up on her family farm in the Upper Valley. She married Don Rix 65 years ago and Don states she is his first wife and she says he is my last husband. Her love for animals and people is what motivates her and why she is still going strong as a veterinary assistant to this day!
Eleanor is owned by 2 horses, 2 dogs and 4 cats. She has been a skilled equestrian since before she learned how to walk. Her love for horses grows daily and she still actively rides at the young age of 83!
Asides from loving animals she is also a devoted member of the U.S. Coast Guard Auxiliary since 1986 where she currently patrols Elephant Butte Lake in NM. She also finds time to educate the general populace on boat education. Eleanor is also a member of Life gate Church and watches the Hour of Power on TV any chance she gets.
If Eleanor is not busy with her animals or other commitments, she loves to spend as much time as possible with her 2 sons, 1 grandson, 1 granddaughter and her precious great granddaughter.
Eleanor's love for animals has not only been a successful career as a veterinary assistant for 48 years but a lifelong passion. Eleanor states, " I can't think of anything I would love more than what I am doing, especially being able to work in the veterinary field where I look forward going to work! Every animal that enters our clinic is accompanied by a human and you have to love both!"
The Doctors and Staff at Zarges Animal Clinic enjoy working with Eleanor because she is a hard worker, loyal, team player and dedicated employee. Thank you Eleanor for your years of service to the field of veterinary medicine!
Years in Practice: 47
Interests: Horse riding, Coastguard axillary